6 Self-Care Ideas Amidst Stressful Times
6 Self-Care Ideas Amidst Stressful Times Within Your Control
I wanted to provide you with 6 self-care ideas amidst stressful times. You may be feeling many emotions right now in response to the overturn of Roe v. Wade and other recent events, such as the mass shooting in Uvalde, TX. It is normal to feel shocked, angry, powerless, unsafe, or all the above. You may have also wondered "What's going to happen next?", or "Am I safe here?" Whatever your experience is, it is valid, and you are not alone.
Take a moment to pause and reflect on what is within your control.  Also, think about the ways in which you can care for your mind and body during this challenging time.  The purpose of practicing self-care is to maintain your balance, physically, mentally, emotionally, and spiritually. 
Here are 6 self-care ideas that are within your control
Schedule a session with your mental health counselor.

 

Use that hour with them to express your frustrations and worries.

 

Practice deep breathing for a minute or two. This technique reduces stress and tension in the body. You can find plenty of guided videos on YouTube.
Step outside for fresh air. Notice all the sights, sounds, and sensations at that moment. Take it all in.

 

Set boundaries with yourself. For example, limit your time spent on social media or reading the news.

 

Tap into your religious or spiritual practices or reach out to your faith-based community.

 

Give yourself compassion, whether it is saying an affirmation or acknowledging your successes of the day, no matter how big or small.
The future might seem unsettling right now, so I invite you to shift your focus to your present moment.  Hold on to that.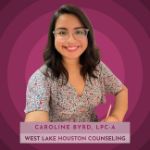 About the Author:
Caroline is a bilingual Licensed Professional Counselor Associate at West Lake Houston Counseling who specializes in working with adults and teens of color who deal with anxiety, depression, and stress. She also works closely with first-generation communities.